"It is the purpose of this company to serve those who have so trustingly put their faith and confidence into our hands in a manner which will produce, under all circumstances, a product
of the highest quality and excellence attainable."
– Brent Wadsworth

Brent Wadsworth started the Wadsworth Golf Construction Company more than 64 years ago
in 1958 based on the golf industry's need to have a dedicated golf course construction company
deliver products that exceeded industry standards.  Devotion to duty, proudness and extraordinary
satisfaction" remain our company's Mission Statement and are carried through on each
and every project regardless of its size.
From the beginning, the Wadsworth Company earned a reputation for integrity, service and quality of workmanship
that is unsurpassed in the industry. A key to the Company's success has been its ability to hire and retain key employees
who share a high level of values and commitment to service. Many primary managers, supervisors and
shapers have served the Company for more than twenty five years. The two project managers that will serve the
Vineyards Country Club project will have a combined total of nearly 60 years in the golf industry.
To date, the Wadsworth Company has completed more than 1,000 major golf projects, working with virtually all
of the world's most renowned golf course architects – most of them on multiple occasions. Many of those projects
have received high accolades, such as "Best New Course of the Year", or are ranked in the "Golf Digest Top 100".
The true dedication to delivering the architect's vision with uncompromised quality yields products that can withstand
the test of time as they provide enjoyment to each golfer that embraces the great game of golf.
Offices in Illinois and Arizona allow for accessibility by our professionals at all time.
"A small error in the beginning is a great one in the end" – Saint Thomas Aquinas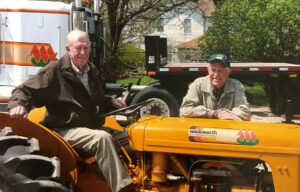 Our company was founded in 1958. A dedicated golf course construction company to deliver products that exceeded industry standards.